Winter Wonderland Stoke on Trent
Birch Terrace
Hanley
Stoke on Trent
Staffordshire
ST7 1EF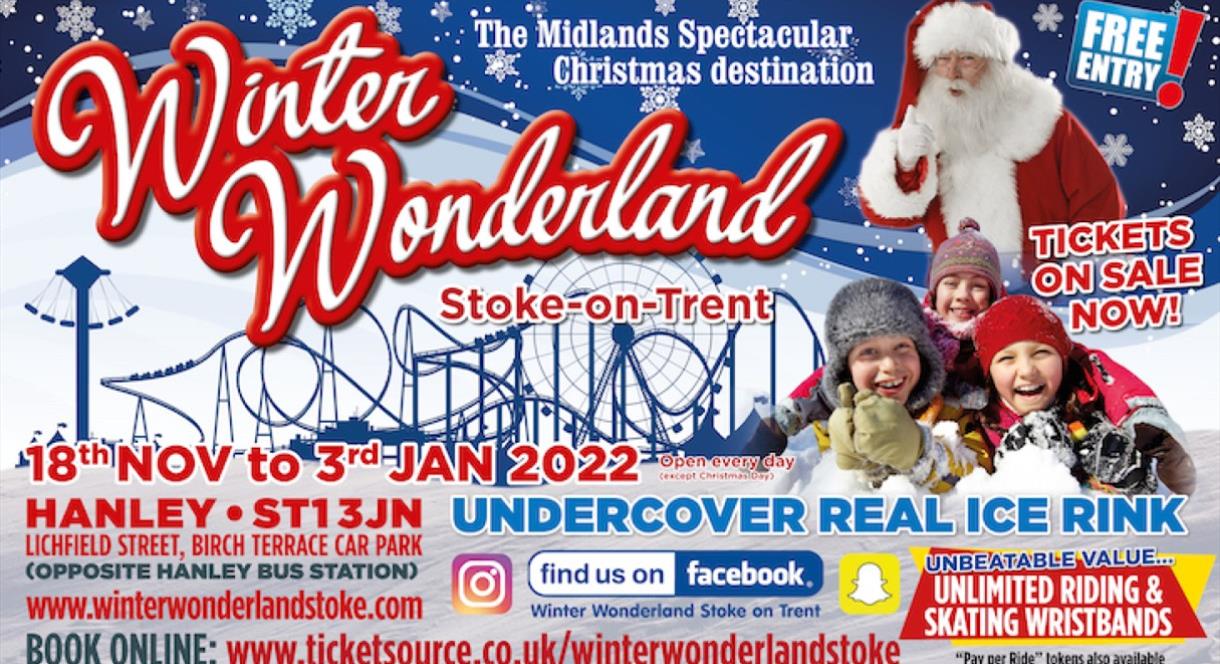 About
Winter Wonderland Stoke on Trent is delighted return for its fifth year OPEN DAILY from Thursday 25th November until Bank Holiday 3rd January 2022

There's plenty for everyone to enjoy, with Families and Friends returning year after year for what has now become an annual Christmas calendar event.

As you step through the castle entrance you'll be greeted with giant Toy Soldiers, timber decked walkways, and a wonderful array of Festive eats and treats.

Our HUGE UNDERCOVER REAL ICE RINK gives the magical feeling of everything Christmas.

The site is packed with RIDES for all ages, thousands of lights, beautiful decorations, Christmas Trees, a delightful Santas Grotto, REAL Reindeer* & Candy Canes.

All the Family can enjoy the twists and turns of Crazy Mouse & Santas Sleigh Roller Coasters, take a flight on Sky Swing a 60m high spectator attraction theres also a fantastic line up of traditional Family and Children's favourites.

When you've wizzed around the rink and been flown through the air at great speed, the Wild Boar Bavarian bar is a great place to warm up, with a luxury hot chocolates or speciality coffee. If your feeling the need for something stronger, we have a selection of draft beers and lagers on offer, served in traditional steins, as well as spirits and yuletide favourite warm mulled wine.

Food is plentiful with an abundance of delicious savoury and sweet festive treats on offer, including a Bavarian swing grill and a traditional toasting pit.

RIDES are PAY AS YOU GO RIDE or you can buy a great value 4h UNLIMITED RIDING WRISTBAND

For more information: www.winterwonderlandstoke.com
Like us on Facebook for Live information Competitions and Special Offers www.facebook.com/winterwonderlandstoke and use the hashtag #winterwonderlandstoke in your conversations!
Book Tickets
TripAdvisor
Opening Times
Season

(4 Dec 2021)

Day
Times
Saturday

11:00

- 22:00
Season

(5 Dec 2021)

Day
Times
Sunday

11:00

- 21:00
Season

(6 Dec 2021 - 9 Dec 2021)

Day
Times
Monday - Thursday

15:30

- 21:00
Season

(10 Dec 2021)

Day
Times
Friday

15:30

- 22:00
Season

(11 Dec 2021)

Day
Times
Saturday

11:00

- 22:00
Season

(12 Dec 2021)

Day
Times
Sunday

11:00

- 21:00
Season

(14 Dec 2021 - 16 Dec 2021)

Day
Times
Tuesday - Thursday

15:30

- 21:00
Season

(17 Dec 2021)

Day
Times
Friday

03:30

- 22:00
Season

(18 Dec 2021)

Day
Times
Saturday

11:00

- 22:00
Season

(19 Dec 2021)

Day
Times
Sunday

11:00

- 21:00
Season

(20 Dec 2021 - 23 Dec 2021)

Day
Times
Monday - Thursday

11:00

- 22:00
Season

(24 Dec 2021)

Day
Times
Friday

11:00

- 19:00
Season

(26 Dec 2021)

Day
Times
Sunday

12:00

- 21:00
Season

(27 Dec 2021 - 30 Dec 2021)

Day
Times
Monday - Thursday

11:00

- 22:00
Season

(31 Dec 2021 - 1 Jan 2022)

Day
Times
Friday - Saturday

11:00

- 01:00
Season

(1 Jan 2022)

Day
Times
Saturday

11:00

- 22:00
Season

(2 Jan 2022)

Day
Times
Sunday

11:00

- 21:00
Season

(3 Jan 2022)

Day
Times
Monday

11:00

- 21:00